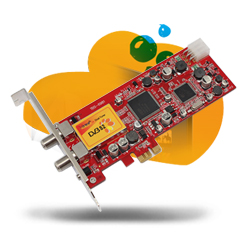 This is my first post in a number of posts I will be making detailing how I've got the (Almost!) perfect TV Server & Client setup for my house.
In order to make a TV server, you will need some form of tuner. As I'm a paying Sky customer, I've chosen to purchase 2x TBS6981 DVB-S2 Dual Tuners. These are currently priced at about £89, which is a good deal.
The cards are low-profile cards, but come with a bracket in order to fit them in larger cases. I've decided to put mine in my HP Microserver (which I blogged about here).
Without going into too much detail on the spec of the cards, they are pretty meaty.
Being a dual tuner card, it requires two drops from the satellite LNB (you need to run one cable for each input on the card. Don't use splitters!)
As I have two cards, I needed to run 4 cables direct from the LNB on the satellite. If you only have a standard dual-lnb, or you've filled up all the slots on your quad-LNB, you will need to purchase either a bigger LNB, or a bracket to mount two quad-LNB's on the same dish. You don't need to go buying a bigger dish yet!
The cards will churn out both DVB-S (SDTV) and DVB-S2 (HDTV), which is great if you've got Movies or Sports in HD.
Each tuner can be tuned to one multiplex at a time, which is different to a channel. Multiplexes contain multiple channels. For example the BBC multiplex contains BBC One, BBC Two, BBC Three (and CBBC), BBC Four (and CBeebies), BBC News and BBC Parliament.
When you change a channel, you are in fact changing a filter to filter out the channels you don't want to see in the multiplex. So even when you are viewing BBC One, your box is in fact viewing all the BBC channels and just filtering out everything but the data for BBC One. This is great, because we can 'exploit' this to watch/record/stream more than one channel at a time on one tuner, leaving the other tuners free for someone/something else to use.
You can view all the mutiplexes and more information at Lyngsat. For Freesat/Sky UK we most commonly use the Astra satellite cluster at 28.2E (East). Details for all the 28.2E multiplexes are located here.